The aim for folk high schools
A special form of adult education in Sweden is the Folk High School. The first Folk High schools were established in 1868. There are now 150Folk High Schools in Sweden. 43 of them are run by county councils or municipal authorities and 106 by popular movements and organizations (such as churches, the labour movement, the temperance movement and other associations).
The overall object of the Swedish Folk High Schools is to provide general civic education. The aim is to provide not only knowledge and skills, thus raising educational standards, but also to provide experiences and social awareness leading to a broader and deeper democratic participation. Folk High schools offer a unique opportunity to enhance each individual´s human resources.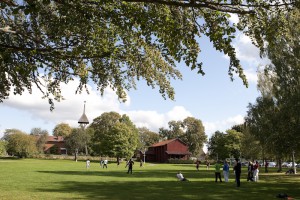 Courses
The school offers a wide range of courses for different interests and purposes:
General courses
You work in groups and choose between many individual topics. English and Mathematics is studied in classes based on previous knowledge of the subjects.
A1 Samhälle: A general, basic course.
A2 Natur: A course with a special focus on natural science.
A3 College: A "college" course with social science and with a connection to the Linné University in Växjö which is regularly visited. Here you prepare yourself for university studies.
Course for Swedish immigrants
Here foreign students from countries all over the world study Swedish and other subjects together preparing themselves for further studies and/or employment in different fields.
General courses at Folk High Schools have been ascribed a specific level of education by the state without a centrally established curriculum being required. These courses may be equated with the upper secondary school, which means that the students can qualify for higher education with a certificate verifying their qualification for studies at University.
Special courses:
Course for Future Employment in the Swedish Church (1 year, distance studies)
Art Course (1-2 years)
Music Course (1-2 years)
Tanzania (1 term)
Senior Courses (1 term)
Short courses
S:t Sigfrid´s Folk High School also arranges short courses from one day to two weeks especially in summer. We have also courses for Germans learning Swedish and for Americans finding their roots in the old country.
Conferences
The school offers accommodation for conference guests but we also receive guests for the day only. S:t Sigfrid´s has an excellent reputation for its high standard food and good service and it is also well-known for the beautiful surroundings, the cosy atmosphere and the access to Växjö within a range of 6 kilometres.
The chapel
The chapel – an 18th century granary – is generally known as "the heart of the school". Today it´s used as a place of peace and meditation, church service and celebration of different traditions. Many weddings and christening ceremonies take place there. It´s also important for all the frequent candidates for confirmation who attend assemblies at the school in summer.
Welcome to S:t Sigfrid's folk high school!
Please contact us for further information:
Telephone +46 470 72 40 80
E-mail: administration@sigfrid.se
S:t Sigfrid´s Folk High School is run by the Church of Sweden and the diocese of Växjö. It is a boarding school at the edge of the forest where the city of Växjö meets the countryside and where important historic events have made their marks. This is a place where people grow and mature and where knowledge for life is continually developing. Our school is a place not only for studies and life-long education but also an inspiration for developing your personal talents and possibilities to discover new aspects of yourself. Here people make friends and meet others with similar interests.